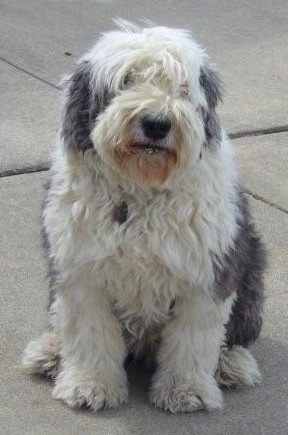 Wouldn't you be the happiest person in the world if you came home to this face everyday? I know I would. I've been in serious canine withdrawal since I moved, and I have consequently turned into the person who sees someone walking a dog, runs over to it with a crazy look in my eye, and then crouches down to pet it and let it lick my face, and then happily continue on my way with slobber face.

I eventually wipe it off.

In realizing this bizarre behavior, I have tried to restrain myself from bear hugging every fluff ball sauntering down the street, but this has only resulted in me audibly gasping and exclaiming, "PUPPY!" when I see them.

For some reason dog owners find this behavior far more off-putting than simply petting the dog. Possibly because the excitement I exude when seeing a dog makes the owner think that I've never laid eyes on a dog in my life. Or that I am also comteplating kidnapping the aforementioned dog.
Unfortunately, my job demands that I travel almost half of the year, so even in my cloudy haze of dog desire, I know better than to subject a furry friend to such a poor quality of life. I mean, I like to think that I'm a pretty good caretaker, but even
my herbs
didn't survive a weekend getaway.
So what's a girl to do? Even though
Kenzie likes to snuggle
, I can't expect her to be waiting eagerly at the door everytime I walk in. That would be excessive. (I think.)
Therefore, I've decided to become better acquainted with
my new toy
and do the Lake Country Duathlon in Pewaukee, WI on October 16. The race is a 3 mile run, a 33 mile bike, and then another 3 mile run. I'm under no delusions that it's pretty ambitious, but I've been really good about my half-marathon training, so the run shouldn't be anything to fret about. I've just got to figure out how to fit a 33 mile bike ride in the middle a manageable 6 mile run, and come out alive at the finish line. I've also got to figure out how what kind of clothes one wears for a race like this. I'm still not hard-core enough to give up my padded shorts for the bike ride, but I really have no interest in running six miles in padded shorts either.
I'm currently having visions of doing a very fancy switcheroo that involves a puff of colored smoke at each transition which allows me to wear appropriate pants during each stage of the race, but this idea is still in its infancy. Alternative suggestions not involving magic would be much appreciated.
The added time commitment of training for a duathlon should hopefully hold my puppy love at bay for the time being. It may also put me in a position where I encounter far more dogs than normal, but since I will be on a bike I will have no way of stopping to enjoy their company. I'm considering it "puppy lust rehab".
If anyone has a dog and wants me to pick up after it as another facet of my rehab, let me know.